Meet a young and energetic man with a smiling face full of hope, happy and confident with what he calls performing miracle to the clients he attends.
Samuel Maina Muriithi was born in a family of seven: five boys and two girls being second from last. Immediately after birth he was diagnosed with congenital club foot both feet. After five days manipulation with plaster started and was to be done every after two weeks in Consolata Mathari by then Italian nun. This so called manipulation took five years without improvement and my feet were getting worse and no body had information of any other alternative treatment which made my parent loose hope and abandoned the clinics.
It was time to concentrate on where and how to go to school and forget the issue of hospital and my feet. Time had passed such that I did not attend my nursery classes and at the age of seven I went direct to class one. At school things were not well with me because I was the only child with deformity and all children were surrounding me saying I have clucked   feet and even my walking style was bothering them. Some teachers went to an extent of dismissing me from the school saying that I required a special school of which by then few existed.
 After school at home I was given odd jobs like taking care of sheep, goats and cows so I did not have time to do my homework since everyone did not value my ability.Tomake the matter worse I could count the days i went to school contrary to absentee. My main problem here was the type of shoe I was using because I could not walk without. I used a pair of shoes every week and most of the time my parent could not afford until the time we discovered the use of plastic gum boot which I used for fifteen years.
It was on a Sunday when I went to church and since I enjoyed a assisting the priest during the mass I prepared as usual but this time a new priest came and after the mass he called and said to me," young man I can see you have difficult in walking, do you know anything to do with Naromoru disabled children's home.?' I replied,' No father since I was born I have never heard.'' He asked me'' Would you like to walk well like others?'' I replied ''I wish we can perform miracle now and my entire problem solved for I would like to catch up with others in school.''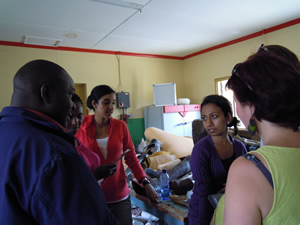 The priest then introduced to me well and his name was father Romano he was the founder of the home and we organized together when we will visit the home. It was one year after I lost my mother through stroke and my father used to work away from home. All my brothers were in school and therefore no one was available to accompany me so Fr Romano accompanied me and we met the Italian surgeons who took more time with me and agreed to try surgery following year. This time I was confident that a miracle was on the way and when returned home I told my brothers that soon I will be like you.
January 1990 came and I was admitted for surgery and the surgeons were afraid of the results since I was fifteen years of age and good surgery are done when one is young. The Late professor Silvano Masragostino founder Genoa for Africa i.e. group of Italian surgeons who comes to the home to do these specialized orthopedics surgeries, told me that I should persevere since it would be so painful to do both feet and promised me that he will do it once and all.
After three month of surgery the first plaster was to be renewed and this time I got the chance to view my feet. Suprisingly my feet were stepping horizontal to the ground, even my heels. Thanks be to God that I would change the walking style and I would wear nice shoes.
After another three months I was free from plaster and physiotherapy and a new shoes was given I could play foot ball and would run without problems. Thanks to Sr Maria Antonietta for encouraging me and through Lilian fond I was able to go on with my education.  An appreciation goes to Sr Clara Nardo who motivated me and encouraged me to do a career that will help other children with disability.
Thanks to Naromoru disabled children's home for giving me an opportunity to train in Tanzania, thanks to Italian Rotary for sponsoring the training and entire Elizabethans sisters for the support.
Having worked in the home for thirteen years I have touched so many and have given hope to many. It's my joy to continue giving service to my younger brothers and to all who need my services. Am an orthopaedic technologist specialized with children and wide variety of orthopaedic appliances, good in possette technique and plaster works.
Lastly am 37 years married with one boy and am happy with my family.